Our Favourite Gifts for Scotch Lovers​
The thing about Scotch lovers is that they are easy to please:
Just give them good Scotch!
We know a thing or two about loving Scotch, so we thought we should put together a few gifts for Ottawa Scotch lovers. 
Everything is available for purchase at Montgomery Scotch Lounge at 750 Gladstone Avenue and during the day at both Oat Couture Oatmeal Cafe locations.
Come during our opening hours, from 5:00PM to midnight (Wednesday to Sunday).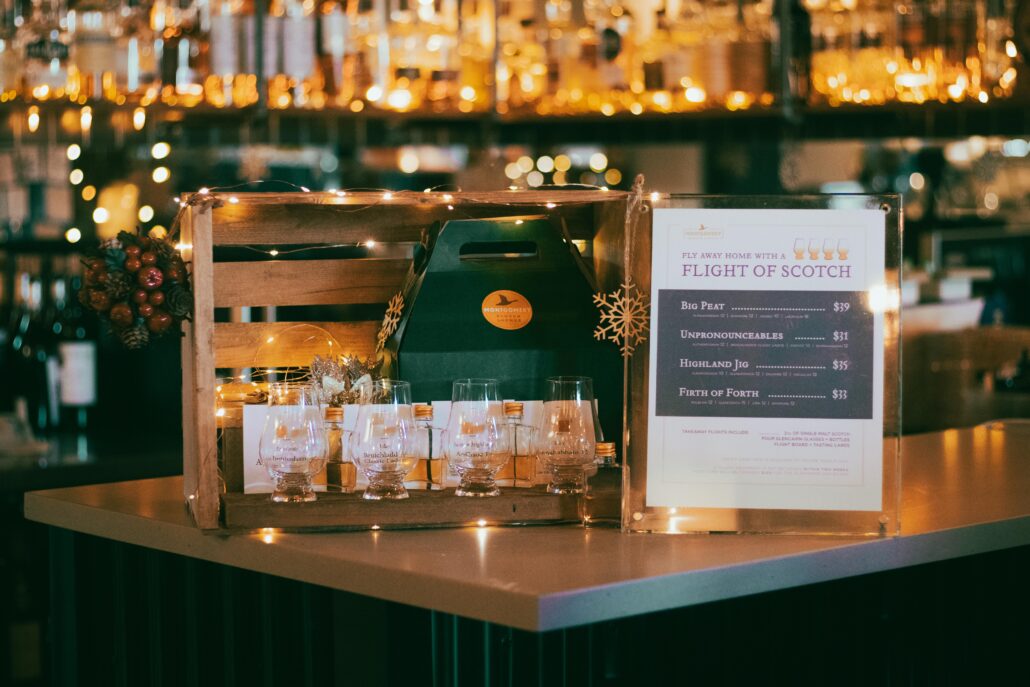 We have four different custom Scotch flights available for a unique take-home experience.
Each of our flights is expertly prepared with four different Scotches whose taste profiles go together.
It is a full-on experience with tasting notes about the Scotch and the option to loan Glencairn glasses (750 Gladstone Avenue location only) to help savour the taste and complexity of fine whiskey.
Available Flights
(2oz total)
The Big Peat
Bunnahabhain 12
Bowmore 12
Ardbeg 10
Lagavulin 16
The Unpronouncables
Auchentoshan 12
Bruichladdich Classic Laddie AnCnoc 12
Bunnahabhain 12

Highland Jig
Glenmorangie 10
Glendronach 12
Dalmore 12
Macallan 12

Firth Of Forth
Balblair 12
Glenfiddich 15
Jura 12
Bowmore 12

You can also share the full Scotch experience at Montgomery Scotch Lounge with a gift card.
With live music every night, an exquisite food menu, scotch flights, scotch cocktails, and a full bar, we are certain it will be an unforgettable night.